Hola! Today, I am excited to introduce to you our very energetic guest, Kimberley Kallio, an engineer turned functional pharmacist. 
Kimberley Kallio has a very interesting story in which she grew up with a mom whose profession is a pharmacist and actually worked in her mother's pharmacy but shunned the idea of following her mother's footsteps. She loves problem-solving and didn't see herself as someone working in a pharmacy her whole life thus she pursue engineering.
It was only then when she got her engineering degree when she realized that yes, she loves solving problems, she loves the numbers, but the social aspect was not there and she misses the joy of working in a pharmacy.
Hence, what made her decide to follow her mother's footsteps and pursue a degree in pharmacy! 
And today, we will talk about how functional medicine works and how it can help your overall health. But before that, I wanted to talk to you about functional medicine pharmacy.
What is a functional medicine pharmacist?
According to Kalish Institute, the functional medicine pharmacist is in position to offer a wide range of services for their patients. Beyond just advice about how to and how not to take a medication, a functional medicine pharmacist can offer advice on foods and lifestyle factors that can help with a given condition such as stress reduction breathing exercises if you have high blood pressure.
In other terms, it is a practice of looking at a person's medical condition not in a black and white pattern but a practice of seeing right through beyond that condition.
This episode highlights a branch of medicine and pharmacy practice that is quite recent, but ancient at the same time: Functional Medicine Pharmacy. Which happens to be the passion for Kim Kallio.
She found a way to combine 2 totally different professions like engineering and pharmacy for the benefit of her patients.
What we talk about
How a engineer becomes a healthcare provider and why.
Why is functional medicine a new thing, that is based in very old practices.
Why functional pharmacy can help specific patients, beyond what a regular clinical pharmacist could.
Why keeping up with your health is a continuous process, if you want to stay healthy.
Why taking care of your body is an investment
Looking out ways into changing some of the (200) prescribed drugs into nutritional diets
How diet and exercise is a foundational way of coping up with what comes up to your daily life
The danger of keto diets if not done right
The consequences of any medical intervention
The misconception of OTC or Over The Counter medications
How functional medicine system approach differs from the regular medical system approach
"If you take care of your body well, there's no limit to what you can achieve." -Kimberley Kallio-
Follow Kimberley Kallio: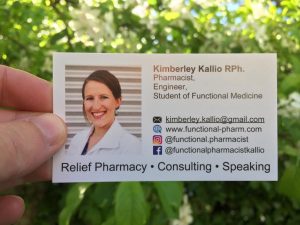 Other Resources:
If you think that you or someone you know can benefit from the information shared in this episode, please share it with them. 
Let me know what you think about our conversation and if you have any questions, send it to hello@thelegaldrugdealer.com
Subscribe & Review On iTunes
Are you subscribed to my podcast? If you're not, I want to encourage you to do that today. It would be best if you didn't miss an episode. I'm adding a bunch of bonus episodes to the mix, and if you're not subscribed, there's a good chance you'll miss out on those. 
Now, if you're in the giving mode today, I would be really grateful if you leave me a review on iTunes, too. Those reviews help other people find my podcast, and they're also fun for me to go in and read.
Just click here to review, select "Ratings and Reviews" and "Write a Review" and let me know what your favorite part of the podcast is.
Thank you!
Transcript
MG
Marilena Grittani
0:10
Hola, and welcome to The Legal Drug Dealer podcast where you would get health and prescription drug education and advice so you can take control of your own health by making your own decisions. My name is Marilena Grittani. I am a clinical pharmacist with experience in community pharmacy, like the ones that you go and get prescription drugs, stay with me and learn from my experience and the experience of experts that I have invited to educate us. Why The Legal Drug Dealer you might ask well as a pharmacist, I deal drugs and it is a legal job. So I think it's funny to call myself The Legal Drug Dealer. So that's the name of my podcast. Here you have the next episode.
MG
Marilena Grittani
0:50
Hola, welcome to the The Legal Drug Dealer podcast. Today, I will be talking to Kimberley Kallio, who is an engineer and also Clinical Pharmacist, and she decided to practice her pharmacy profession as a Functional Medicine practitioner, she will tell you a lot about how different the way to practice pharmacy is, and how you as a patient are the focus. And this is part of the Functional Medicine series that we started with Dr. Megan stone, that she presented us last week with all what it is to know about Functional Medicine. Now we're going to talk about it from the pharmacist's standpoint. So Kim is a pharmacist from Canada, and she is a very outdoorsy person, and she is super fun and super cool. So you're gonna have fun time with us today. I hope you like it.
MG
Marilena Grittani
1:40
Miss Kimberley Kallio. Good day. Thank you for coming to our podcast and thank you for being my first international guests for The Legal Drug Dealer podcast. Yey.
KK
Kimberly Kallio
1:52
So glad to be here. Thanks for having me.
MG
Marilena Grittani
1:55
Absolutely, and we started talking about this a long long time ago, right? And then you were mean to me, rubbin in that I was in the middle of the winter and you were going to Costa Rica. Remember? I don't forget mean stuff, lady. Yeah. Yeah.
KK
Kimberly Kallio
2:12
I didn't know you have a podcast.
MG
Marilena Grittani
2:15
True, I was working in it. We were working on it yet true. And then you said, Yeah, I was in Costa Rica live and put a visa and I'm like, I don't like you already. So let's just stop it. But no, I do like her you would like her too. No worries about that. And she is a little bit, she likes the beaches, she likes the snow, we are people. And we will talk about that a little bit later, too. So tell us about you a little bit. Tell me what motivates you to do what you do but start from the beginning. What is your profession and how did you start?
KK
Kimberly Kallio
2:50
Ah, so right now, I'm a Pharmacist. I grew up working in a pharmacy. My mom owns one in Ontario. where I grew up. But I did not start out as a pharmacist. In fact, I shunned my mother when she suggested that I should follow in her footsteps.
MG
Marilena Grittani
3:10
Oh my gosh, rude, rude.
KK
Kimberly Kallio
3:13
Yeah, why would I do pharmacy you just, you know, hand up pills all day seems boring to me. So I said I want to solve problems all day. So I'm going to go and be an engineer. So I went to Queen's University, which is in Kingston, Ontario, and became a mechanical engineer. And quickly upon graduating, realize that while I was solving problems every day, a lot of that was meant to, you know, make big companies lots of money and looking at spreadsheets and finding errors, saves millions of dollars. But, you know, having that great feeling at the end of the day really wasn't there and the social aspect wasn't there. As well, you know, I remembered working in a pharmacy, growing up and everyone was chit chatting and the little old ladies would come in and everyone knew everyone. So then I called my mom at lunchtime and I was like, yeah, so you're right.
MG
Marilena Grittani
4:16
Yes.
KK
Kimberly Kallio
4:17
You're about convert me as a pharmacist.
MG
Marilena Grittani
4:21
Told you so.
MG
Marilena Grittani
4:21
So then you decided to go to pharmacy school?
KK
Kimberly Kallio
4:25
Yes. So then I spent a year of course, I was an engineer. So I was math and physics, was all I knew. And I hadn't taken biology. I even in high school, because I had so much math and physics. I had to skip grade 11 biology. I went straight to grade 12. And they just kind of like let me do it because I live in a small town and it's a small heist hater. They were like you do too many sports to have time for your classes. So yep, right through. I did great for Biology, and then I didn't know biology or anything relating to health sciences for four years of engineering, and all of a sudden wanted to apply to pharmacy school. So I went back, spent a year getting prerequisites and doing the application process. And then I started in 2013 at UBC.
MG
Marilena Grittani
5:21
So now you are officially part of the clan. You are a pharmacist now.
KK
Kimberly Kallio
5:26
Yeah.
MG
Marilena Grittani
5:27
Even though you grew up in the environment and your mom is been an influence and your pharmacy career since you were little. You are now licensed and a Legal Drug Dealer then
KK
Kimberly Kallio
5:38
I am The Legal Drug Dealer.
MG
Marilena Grittani
5:39
Yes maam. Welcome to the clan.
KK
Kimberly Kallio
5:41
Yes, yeah.
MG
Marilena Grittani
5:42
International. Hahah! Anyways, so why, I mean beyond the fact that you wanted the social interaction, what motivated you to change from such a robotic cubicle driven numbers and data driven profession to pharmacy? Why did you make that change? What is the one that drive you that motivated you to change?
KK
Kimberly Kallio
6:09
Yeah, it's a, it's a couple of different reasons. One of them being the social aspect and the working together all day to a common goal, not in cubicle, but you know, you're all working together on specific tech, and you get a lot more feedback of how you're doing all day in a pharmacy, you know, in engineering, it's six months, a year, five year projects, and you might have these little tiny wins, but you might go a whole career in the most extreme of cases and never see the final project. You know, that's kind of crazy in pharmacy, it's like, oh, we have a problem. We're gonna solve it. We're gonna do a great thing for this patient. That's the other part is, I'm working with patients now. And there's a real person on the other end, not just a number or a, you know,
MG
Marilena Grittani
6:56
construction or Yeah
KK
Kimberly Kallio
6:58
Yeah. Attached to what I do. So that motivation is there to really help people and you get the warm fuzzies. I call them you know, when I, someone says thank you or I do something great for them, and I get kind of the like, Oh, that was nice.
MG
Marilena Grittani
7:12
Yeah. Yeah, as a pharmacist, you have the opportunity every day working in retail to or other consultations, you have the potential to change people's life several times every day.
KK
Kimberly Kallio
7:26
Yeah. And it can be something very simple that changes someone's life. And you have that power to do it and do it multiple times a day, which is really cool.
MG
Marilena Grittani
7:37
Well, I'm gonna be against that comment that you made, that you said something really simple. And now I know you're not liking my comment, but I'm going to continue with it because this is my podcast and I do whatever I want. No, No, I'm just kidding. Now what I want to say is that for us, pharmacists, the changes might be a little but or by may be something that for us is second nature, but for patients that have never heard about it and have no idea or they don't understand, or even better, when their lives changed completely, that they become a little bit more normal and more adapted or have a better quality of life for them, it's a huge impact. So don't demean that new digital change. It might be, it might be little in terms of based on all the information that you have, and what you can do for them. But for them, it's a lot so thank you for doing what you do. And thank you for bringing that problem solving mentality and brain structure and training to pharmacy because that makes you an even better pharmacist, specifically to what you do now, which is my next question. What is it that you do now?
KK
Kimberly Kallio
8:46
Yeah, so now I've found my niche in pharmacy which is functional medicine pharmacy and that is really cool for me as an Engineer because it's a way of looking at the human body and medicine and the way we treat people in a systematic way. Which is basically your engineering medicine. So that's been really cool. I discovered it when I was working for a pharmacy is sort of a more holistic pharmacy in Vancouver. I was working beside a functional medicine clinic. And, you know, it was kind of like a little seed that just popped into my head and I was in the middle of studying and then three years later, all of a sudden, that word came back up to me, and I thought, well, wait a minute. I remember this. This sounds like my jam. Yeah, I started with the Institute of functional medicine in the States. I started their certification program last year. So I'm about a third of the way through that right now.
MG
Marilena Grittani
9:50
So you're getting the fresh information, the most recent and most up to date, everything that is just coming out then of course we all folks have no idea what's going on? Because we are not like the School?
KK
Kimberly Kallio
10:02
Yeah, I'm getting, I'm getting it all fresh. In fact, the way that they run their certification program, you have to complete it in four years, I believe.
MG
Marilena Grittani
10:11
Mm hmm.
KK
Kimberly Kallio
10:12
You can't take you know, the immune house module. And then three years later, take the hormone. And because by the time that happens, you know, our nurture has done. So
MG
Marilena Grittani
10:26
yeah
KK
Kimberly Kallio
10:26
So they force you to do it quick and then write the exam and then get out and and practice.
MG
Marilena Grittani
10:32
Yeah, because also the medicine progresses so fast. Whatever was in like, three years ago, doesn't work on this day. So we're recording this and by the end of May to April, right of the Coronavirus era. Unfortunately, we know that things have changed tremendously things that we thought we took for granted for a long time. Now it's out of the window. So it's something that progresses and I believe that that is something that is important that's why nearly grads are so important to medicine in general, not because they don't have the experience we do. But then you have the new knowledge. And then that's why the team play and the team work is so important, because you bring to the table stuff that we didn't have. And we do the opposite. And we both learn from each other. And that makes us a better providers for our patients. And that's all what we want. We just want to help people.
KK
Kimberly Kallio
11:22
Totally, that balance is very important. Having the experience to know hey, now, what you learned in school doesn't compare to what I know having seen these things.
MG
Marilena Grittani
11:33
Yeah.
KK
Kimberly Kallio
11:34
And also the new knowledge. Well, actually, they came out with a new study and whatever year and they showed this and that and the other thing and yes, you have a team.
MG
Marilena Grittani
11:43
Yes. Collaboration always is for the benefit of the patient in this case. So tell me about functional medicine. What does it function what, what is that concept?
KK
Kimberly Kallio
11:55
Yeah, so functional medicine as compared to just medicine, standard medicine is really a practice of looking at the person, not in terms of the dichotomy between you have a disease or you don't have a disease, it's really, you know, we're seeing a trend in a lot of different areas, whether that's social or in industry looking at things, you know, not just as black and white or off or on but as a continuum. So, in functional medicine, we look at things along a continuum of, you know, perfect function, which you know, you may not ever, you may not be born with perfect function, but you know, assuming that that exists perfect function of a system or of your body, and then you go along a continuum, you start to have dysfunction in your body, and then eventually we get to disease. And unfortunately, in our medical system, the way that works is, we just assume that you're fine until you're not fine. And then we're putting out fires. And so functional medicine looks at things along that continuum and says, let's intervene here, where we can really make a difference. And we can save a lot of costs and heartache down the road.
MG
Marilena Grittani
13:13
And problems, like diseases or stuff that might be chronic.
KK
Kimberly Kallio
13:16
Yeah, and we see a dysfunction, you know, because as soon as we get to the disease stage, for example, in diabetes, we know that by the time you will get that diagnosis, by the time that blood sugar has changed into the red zone, you've had heart disease for 10 years, you've been having problems and it's been attacking your your blood vessels. So, you know, we got to get away from this thinking of black and white and go to there are areas of gray.
MG
Marilena Grittani
13:48
And that's why I'm so happy to have you here because I want people to understand that we need to be monitoring ourselves the same way that you do it with a brand new car, when you buy a car you need to go to service, and then you need to go change the oil. And then you don't only put petrol or gas on it, you have to do maintenance on it. And if not, if you do nothing, most likely 10 years later, that car is not going to be in the same shape that will be mine that I take it every, whatever length of kilometers or miles that it has to service and then the car is the best based on the basics that it has, because age always have a factor to influence us into that way. Tell me about it because I'm about to turn 50 and I'm having all the aches and pains that anybody in the whole world could have, which I never did, because I was very athletic, to somebody that did so my impression of this is that we continue to keep in check. And don't wait until it's too bad. It's already bad. So basically we are more proactive than reactive.
KK
Kimberly Kallio
14:55
Totally. And I mean, you know, as an engineer, I can tell you that the human body, you know, there are a lot of similarities between how we need to care for our machines and how we need to care for our bodies except that our bodies are the most incredible, they're so far beyond what a human could design as far as the machine is concerned, you know?
MG
Marilena Grittani
15:17
Yeah
KK
Kimberly Kallio
15:17
If you take care of your body well, there is no limit to what you can achieve. You know a car it's kind of like well you can devalues 550 percent when you take it off the lot your body's not like that so there's so much more potential and great things if you go for it.
MG
Marilena Grittani
15:33
Absolutely. And, but sometimes humans were so I don't know what word to use, but we take care of cars or the TV or the computer way more than we take care of ourselves. We buy antivirus for the computer, we got all this protection things and we buy warranties and service for the computer and then you never go to the doctor and you never know where you are. So you don't know what it is. It just surprises you so more than an industry, if you taking care of yourself, you do that for your kids, you take your kids for wellness visits, like every six months or whenever they need vaccinations and the doctor check them. But after you turn 12-13, you're on your own. And nobody knows anything until you get sick. Is that normal? Would you? Is that what you would say that's okay? I don't think so. Personally, I don't.
KK
Kimberly Kallio
16:26
Yeah. And it's funny that I think it comes down to the lifecycle of the product, you know, if you consider your body as if it were a consumer product, the lifecycle is so long on it, then you kind of think, oh, like, I can deal with that later. That's fine. But with a computer, you know, especially the, the early versions of computers they be, I think, I got a computer in my first year of engineering school and I had to get a new one by the third year, you know, so you really want to invest that money to keeping things working longer. We just spent, we rest on our worlds. It's what humans do human nature.
MG
Marilena Grittani
17:03
True. And that doesn't help us because what you think is that you're young and strong, and nothing is wrong with you because your body is compensating and going through this process in the slow, lengthy development. And then, after 2030 years of getting stronger and doing whatever damage is doing unto us, it's too late. And that's what you see at the doctor's office that 80% of their population is over 65. And that's worse. So as human as a race, we are very sensitive to get a lot of diseases and a lot of stuff that younger people in general want. So if we take care of ourselves, throughout our lives in a better way, maybe a bit late in life, we get to enjoy life more rather than be spending time being sick or going to the doctor and taking 25 to 30 pills a day or medications that have different doses a day. So it's about an investment. I believe that is like keeping up with your house, it's not that you have a crack on the wall and you forget about it until the fall, the wall falls, right? You you fix it, you keep it up. Same thing with your body is that is the best investment that you can make, not only for you, but for the people that you love and depend on you.
KK
Kimberly Kallio
18:15
Yeah,
MG
Marilena Grittani
18:15
that's what I think.
KK
Kimberly Kallio
18:17
And the functionalist perspective would be look at the wall before you see the crack. Do we see any signs of instability? can we predict any signs of instability by looking elsewhere in the house and noticing that, you know, there are certain markers that would say, we're prone to a crack in the wall
MG
Marilena Grittani
18:36
And then we can prevent and work on preventing it. Yeah. So tell me about food nutrition and functional pharmacy or functional pharmacy medicine.
KK
Kimberly Kallio
18:48
Yeah. So what draws me to functional medicine from a pharmacist perspective is that there's so much you can do with diet and lifestyle and you know, as Pharmacists, we are quite limited in what we're able to do, especially working in retail pharmacy. I mean, you know, you get these prescriptions that come in and you look at them and you go, what was this doctor thinking?
MG
Marilena Grittani
19:09
Yeah, he wasn't, that's what it is. The doctor wasn't thinking. Yeah.
KK
Kimberly Kallio
19:15
Exactly.
MG
Marilena Grittani
19:16
Theres no explanation.
KK
Kimberly Kallio
19:17
And when you get 100, or 200 prescriptions a day, and they're all our hot mass, you know, you can't fax the doctor on every single one of them as much as our pharmacy school would like to think that we're going to be, you know, we're going to get out and be these like clinical, amazing people. And, and we are amazing, and we are clinical. And we do look at these prescriptions. And we think this is,
MG
Marilena Grittani
19:40
this isn't what it is yeah,
KK
Kimberly Kallio
19:41
But you can't fix all of them. And also, you know, not lose your job because your managers like you're a pain in the ass. You got to get out of here.
MG
Marilena Grittani
19:49
Yeah.
KK
Kimberly Kallio
19:49
So when it comes to functional medicine and the approach there, it really adds to what we all learned in pharmacy school, which is, I don't know about you, where you went to school? But for me, when we went to our labs, or pharmaceutical labs, you know, we'd have these like patient scenarios. And if you wanted to pass you had to give four non drug options, or what you're counseling on. So, you know, doesn't matter what that condition is you had to get four non drug options. And the functional medicine approach is kind of like, you know, that times 10. And it really means that as a pharmacist, I have some power and ability to make changes for people and help them live their best lives without needing permission from the government to prescribe.
MG
Marilena Grittani
20:41
Yes, which is the law now in the US as well. We pharmacists are not authorized to prescribe, we're not considered providers. So whenever we do interventions with any patients that we're trying to help them we do not get paid for that. So we give away our expertise and our education to the patient because we absolutely love to do what we do, and we're not reimbursed by it, which a physician in comparison would get paid $5 to $600, right for what we do for free. Plus, pharmacy school is not free, which it should because it makes sense, right? But it's not. So you get out of pharmacy school within the US with about an average of $200,000 of debt, student loans, and it's just simply not fair. But let's just go back a little bit about food and nutrition and how that affects us because everybody says, to get a healthier diet and exercise, so how does that relate to functional medicine?
KK
Kimberly Kallio
21:41
Yeah, so the the diet and exercise part is foundational to your ability to cope with the stressors that come at you on a daily life in your daily life, and you're it makes you so much more resilient when you're giving your body what it needs to function at its best, and, you know, we're seeing now finally, we're actually getting proof that on the other hand, you know, we've got the prevention and society has known forever and ever and ever that you know, an apple a day keeps the doctor away. I mean healthy exercise, take care of yourself, you're going to prevent illness. But finally now we're getting hard data on even reversing disease, you know, so there are trials with ketogenic diets, reversing type two diabetes, getting people off medications, talking about saving money for a health care system, you know, a fasting diet can be very, very helpful for people with arthritis. It's really cool what nutrition can do for you, aside from you know, also being a joyous activity you can do it with friends and the whole not dying from starvation thing,
MG
Marilena Grittani
22:56
Which is a good thing. It's a good point not dying. So you say going back to what you said about ketogenic diet. She's not saying that meaning go if you're diabetic go on a keto diet. Because if you do it on your own if you don't have supervision, if you wouldn't have a medical expert working with you on this, you might have really, really bad consequences. So please don't take it literal. She means a specific based on the same concept, monitor and medical diet that needs to be specific with somebody that is an expert. So don't run Oh, she said, well, I can do keto that I'm gonna start tomorrow. No, that's not what do you need, you need to have a
KK
Kimberly Kallio
23:37
Yeah, especially with how medicated our population is. You go on a ketogenic diet in the first week, you have to cut those blood pressure pills in half or you have people falling over all over the place. Because sugar is one of the biggest modulators of our blood pressure. You get rid of all that extra sugar. It starts going out through your pee takes all the salt with it, you're gonna fall over you're on a bunch of blood pressure medication. So, you know, and it's not safe to do it by yourself, if you it's not safe to go unsupervise and don't let that be a deterrent for you to go to the doctor and say, hey, listen, I've been told that I can do pretty wild things of my diet, don't let it deter you. But having said that, if you've gone, you know, for 10 years, 15 years and you've got on six or seven medications, doing a powerful diet dietary intervention, or you know what the group I belong to is called therapeutic nutrition. The Institute for personalized therapeutic nutrition and Canada, you know, they specialize and there are doctors out there that specialize in helping people reverse chronic conditions safely.
MG
Marilena Grittani
24:46
And that's the way that you should do it. Because at the end of the day is no wait, what matters is not the way that you look. What matters is exactly keeping healthy, being saved of what you're doing by the steps that you're taking for the future of your own health. So specifically about that, I think that this goes along with the summit that I've been talking about that is, we're trying to educate with this specific conference that we organize, Miss Kim is part of it as well. We are talking about you taking ownership of your health and being responsible and taking charge of it because our culture and our education, and our tradition is the doctors are the ones responsible for it. And then you go home and you don't do anything that the doctor said, but the doctor still the one who didn't do it for you. And then becasue of the way that pharmacy as a industry have progressed in the past four years is that it's all mass production, so everybody, the mentality, because of their marketing is take a pill and think it'll go away. And that is not normal, that is not human-like, that is not the way that it should be.
MG
Marilena Grittani
25:22
I remember grandma giving me, I would call it I know grandma pass and she's listening to me so please, I'm gonna say it in a very respectful way because I do believe in it. I used to call them potions. She used to drink eggplant water. She we'll boil eggplant and then drink that. And I'm like, ew, what is that? And then she had it for whatever reasons. And then I remember her giving us a aloevera with blended with honey and butter for us an expectorant. And that thing works as a charm. But you are like, but there's a syrup for that. why would I take something that is so nasty? And well, that's the way that it worked for centuries, and people deal with it. That's the way that it was in the past 50 years is when we have commercialized medications that is not compounded. That is changing our mentality. And then because the pharmaceutical companies want to make a ton of money, they're like, Oh, don't worry, eat crap but take a pill a day and you will be fixed.
MG
Marilena Grittani
26:18
That is not what it is. It's an easy way, but it's not. It doesn't work, first of all, and secondly is like a mandate for it. But most importantly, you continue to keep damaging yourself, by the way that you do it. So what is your point with that? Yeah.
KK
Kimberly Kallio
27:18
Well, and the medications we have. So, you know, there's two things about that. You take a medication and the functional medicine approach, you know, the standard approach is here, take this medication, it'll fix your lab values all will look well on this like one system we're looking at. So call it the cardiovascular system. And that's great. But now we also know we've got a whole list of nutrient deficiencies that can happen when you're taking medications chronically. So when we look at Metformin we have which is taking for type two diabetes, its standard first line medication, Metformin can deplete your B 12 stores and what do we know is a complication of type two diabetes neuropathies, you know, the tingling in the extremities and the inability to feel pressure on your feet? Well, that's also a symptom of having B12 deficiency. So, you know, there are consequences to any intervention, especially if it's powerful enough to show benefit in clinical trials that are highly monitored and controlled, and then powerful enough to be marketed as a drug. So that's the one thing and then the other thing is, okay, we've got four different medical conditions, which, you know, if we look at it from a functional medicine perspective, may all come from the same core issue. But we've got four separate medical conditions for separate drugs at minimum that have been shown to have a benefit and are safe for those individually. Well, now we slap them all together. We don't have evidence that these four different medications work together well on the body, but we still call it evidence based medicine, you know.
MG
Marilena Grittani
29:10
So the same thing happens with over the counter medication what we call over the counter or OTC which is those that you buy at the pharmacy or at the grocery store that have no prescription that you don't need a prescription to get. People think that because they're there like the groceries that you grab to take home, they have no harm, they cause no harm. Well, let me just tell you something they do. I actually prepared one of my first pamphlets that I preferred is about over the counter medication, what you need to think about because side effects, they affect other drugs, they can cause other issues and fixing one cause another problem. So nobody knows this, because this is not your area of expertise. That's what we know because we are the drug experts, right? And that's what we're trying to educate you about it. But every single medication has side effects or adverse effect, which is two different things. Side effects is stop what happened with her that it's not that bad, you can put up with it. And then you have adverse effects that could damage you really bad. Or if you don't believe me, and you believe the TV a little bit more, listen to any commercial that talks about in medications, how much of the time that they're talking about that drug they spent and what we can call a disadvantage because it causes so many things that you're like, why would it take that if it's going to kill me? Exactly. That's the point. So if you can fix yourself before you need to take stuff like that, why not to do it? And if it's in a nice cool way, why not? So that is the point that I wanted to make. So I believe that all started because now insurance companies or met but is it healthcare systems are limiting the time that the physician or the provider spent with the patient, they just have 10 to 15 minutes to work on whatever it is, there's no way that you can know everything, you can talk about everything in 10 to 15 minutes. So why is, what is the approach that functional medicine does versus this what is the difference? How do you approach it differently.
KK
Kimberly Kallio
31:01
Yeah, the regular medicine that we have our medical system in North America is amazing. It is for acute care. Don't get me wrong. If you have cancer or you have, you know, an infectious disease happening, you don't want to be anywhere else you want to be in the western style medication
MG
Marilena Grittani
31:24
system
KK
Kimberly Kallio
31:24
focused care, because we do an excellent job of acute care. It's the chronic care issues that we really don't do well with. And that's where functional medicine takes a different approach. It's, as opposed to the regular system, which most physicians offices are fee for service. So in Canada, everything is covered by our health care system. So you go in, if the doctor gives you lab tests, they're gonna bill the government and say I did lab tests. If they talk to you about an acute care situation such as a urinary tract infection, they're gonna bill for that service. And so it really promotes like a 15 minute max
MG
Marilena Grittani
31:24
direction
KK
Kimberly Kallio
31:24
one problem, appointment style, functional medicine is different, a lot of it is private pay, because the physician needs to spend more time with you. They have something called the functional medicine matrix. So they look at. And so they look, they'll get your history all the way back to when you were in the womb, what happened to you all the way from in the womb, to birth throughout your life. And then they look at that, and they put it on this matrix, which is really cool, separated into different body systems. And then you kind of get a whole picture of the individual and how we might best start.
MG
Marilena Grittani
32:45
Yeah, and they're all related. Yeah.
KK
Kimberly Kallio
32:48
Mm hmm. Yeah. And you see, like, what parts of this matrix is this person really struggling with right now? And what are some things that we can do that are going to affect multiple things at once and be beneficial to start with, and it's really it's not about coming in for an appointment. Here's the problem. We have a solution, you're out the door and gone. It's really about like the process versus the goal,
MG
Marilena Grittani
33:13
which is what really works, because nothing gets fixed immediately. You don't have a switch on and off that is like, okay, no more diabetics off, or Okay, no more heartburn. And this off, it doesn't work that way. Because the aggravants, the reasons why you got there, is not solved, it will continue we'll come back even if it looks like it's fixed at one point it will come back. So basically, functional pharmacy goes back to what it used to be when you used to have an hour an hour and a half consultation with your physician before insurances or health system to cover and try to kind of standardize everything they looked at or they look at a more of a square and the human being is not, it's not a button. It's not that. It's too complicated for that it's too perfect but too complicated for them
KK
Kimberly Kallio
33:57
and the human connection is so important the relationship between the physician or the pharmacist and the, I guess, health care provider in general, that relationship is so important and it makes huge difference on outcomes.
MG
Marilena Grittani
34:13
Mm hmm. Absolutely. The results are completely different. So let me just say this, because functional pharmacy or functional medicine focus on pharmacy is so extensive and it has so much to do with this we're gonna actually talk about nutrition specifically was a colleague of ours called Lara Zakaria. She is so good. She's also nutritionist and she's a pharmacist, nutritionist and also she is an expert on functional medicine. She talks so beautifully about it that you just want to go to the grocery store and buy all this stuff. So and eat it because and then it's delicious. So it's not that you're limiting yourself with stuff that are good. You are just limiting yourself with stuff that are poisonous this like if you choose well, do I smoke or do I not what's the best for me? Hello, do you have to think about it? No, it's smoking, right? Same thing with bad foods or stuff that are, you know, full of chemicals or cancer, what have you. So that is something that we can start thinking about or be more mindful about, or doing research to get more information. But thank goodness functional pharmacy, or functional medicine, in general is being a little bit more spread out through the world these days. And I know in the next 15 to 20 years, we're going to have most of our medicine driven by this, because this is what it's supposed to be. The past, they used to be just driven by medication cost and having statistics that work for everything, but the human body is too complex for that. And I think this is what the future is going to be. So there's a lot that is coming up. And a lot of research that is happening, a lot of studying that is being done by new experts. And I'm not one that's what I'm so grateful that you're here to tell us stuff that even though I have a little idea, I'm not. I'm not that deep into that. So this is a subject that we need to go more in depth. So I need you to come back and talk to us, but about specific ones of the systems a little bit longer, because they're in more detail, because, well, there's a lot. But before we do that, what are a few recommendations that you can get to the person that is listening to this conversation, how they could start making a change for themselves based on functional medicine theories?
KK
Kimberly Kallio
36:33
You know, it really is functional medicine is giving us a framework for how we look at the human body and it's giving us some, there's some really great studies coming out, but a lot of those things are really just giving us hard data on things we already know. You know, sleep is very important for your health, especially, you know, immune health right now is a huge topic with the COVID-19 situation. I was just reading a statement that the Institute for functional medicine put out talking about things that we can be promoting to our patients around keeping your immune system healthy. So nutrition wise that's it's the standard fruits and vegetables are important you need to have the minimum servings per day but not just that functional medicine community goes even further you know, there are studies that show that the diversity of what you eat fruits and vegetables wise plays into the functioning of your immune system and your ability to fight infection. So it's not just you know, I'm a little guilty of this. I've got my my standard meals that I've gotten used to eating my
MG
Marilena Grittani
37:43
easy to cook maybe,
KK
Kimberly Kallio
37:45
for me. Yeah, easy to cook. You know, I have a salad with my beets and my carrots on it. And I have my special fancy salad dressing that I like to make, but we actually have studies showing that the diversity of what we eat you know, it has all these really great phytonutrients in it. And those give your immune system different signals to work at its best. So yeah, food is a big one. And great news. If you start eating a healthier diet, your microbiome gets used to having that diet and all of a sudden it starts to crave your body will start to crave healthy foods. You know, if I go on vacation for a week, and I indulge and I eat all these fatty foods and more processed things, lots of salts, when I come back, I crave fresh fruits and vegetables, because that's what my body is used to having. So it really is it's a lifestyle approach. It's not a it's not a one stop shop fix approach.
MG
Marilena Grittani
38:45
Absolutely. And here's what I do since I started learning about this and grandma taught me that too, but you know, you kind of rebel against that is whatever you buy today at the grocery store. Don't buy it again for two more times. So buy every third time that you go to the grocery store to do your big grocery shopping, so if you get apples today, if you get, I don't know, pears today don't don't do it for two more shopping, so buy other stuff that would, you know, create that variety that you're referring to. Same thing with other veggies. I mean, I hate brussel sprouts and I promise that I'm going to start eating them but Matt found a way to cook them and I'm not saying that I'm gonna eat that several times a month but I would just do a little bit of it because I know and I'm mindful that the nutrients that that particular vegetable contains not others do so and I need my body needs that so I'm going to make changes and and even though we know recipes and stuff that are always the same and you're used to buy the same ingredients all the time, make it as a challenge to make to buy variety. Oh, I haven't bought beets in three months. It's time for me to get it. I haven't got cauliflower, yellow cauliflower in this much. You know, try to get the brightest color right? And the more variety that you can and of course exercise you didn't know anything about exercises at all? You do nothing, right? No.
KK
Kimberly Kallio
40:04
Exercise is the worst.
MG
Marilena Grittani
40:06
Yeah, no, that is not true. Not true.
KK
Kimberly Kallio
40:10
Yeah, exercise is one of the greatest modulators of our immune system, and our ability to be resilient in all the stressors that come our way. And that's one of my favorite things to do. In fact, you know, that I used to, you could say, overtrain, I, I grew up I was a competitive, long distance runner. And now I now I exercise for fun, but it is a huge part of my life. And it's my way of getting out into nature. And you know, that plays into our stress reduction system. We know stress is an important modulator of the immune system. Oh, man, I could just go on and on.
MG
Marilena Grittani
40:46
Yeah, that's why we have to stop because it's too much and it's too tempting now, if you want to get motivated by by somebody to go out and do more nature, follow Kim on her Instagram, she's always doing so many crazy stuff that you're like, man, I want to do that. I want it maybe after a month or so that she motivates you, you will start on your own because nature is right there. And guess what? It's free. You don't have to pay for it.
KK
Kimberly Kallio
41:08
Yeah, that was part of my moving pharmacy as well is you can in engineering, you got to, if you want to do anything kind of cool, you probably have to live in a big city and be surrounded by concrete. And I'm a creative person. So my first job as an engineer where I was manufacturing tubes.
MG
Marilena Grittani
41:28
Yay, fun.
KK
Kimberly Kallio
41:29
Well, really sparking my interest. But with pharmacy, I get to go live wherever I want. And I chose the mountains.
MG
Marilena Grittani
41:38
And it's beautiful. You have to see her Instagram stuff. And thank you so much, Kim for coming with us and for introducing us to functional pharmacy or medicine in general, and to let us know how it works. And mostly to give us the point of view that your brain has having an engineering as your first profession and pharmacy as your second for us to understand how it is and how precisely it works. So I think people are going to be a little bit more curious about functional medicine and they will research a little bit more. So what do you have for us so we can that they will grab it from our website.
KK
Kimberly Kallio
42:13
Yeah, absolutely. Thank you so much for having me here. This has been great. I really love hanging out with you because you're such a whippersnapper.
MG
Marilena Grittani
42:22
Thank you.
KK
Kimberly Kallio
42:24
So my website is called kalliofunctionalpharmacy.com KALLIO functional pharmacy, and I'm that same tag is my Instagram and my Facebook and then on Twitter, which you know, I don't know, these social media people have told me I need to have Twitter so I'm not what I'm trying my best is just Kallio pharm. So my last name and then PHARM.
MG
Marilena Grittani
42:52
I will have all this information in the show notes. If you want to go to the website and find that out it's going to be thelegaldrugdealer.com, and I hope that you get information and you get motivated to start moving to get more variety, veggies and fruits, and you get more of nature. Thanks to this conversation. Thank you so much.
KK
Kimberly Kallio
43:14
Thank you.
MG
Marilena Grittani
43:17
Don't you think that Kim was awesome, she is very relaxed, and she sees medicine and pharmacy and patient's health in a different way because of her engineering way to see the world and to understand how things work are superb for this type of medicine that she practices. As a pharmacist as a pharm D. And as an engineer. I think she has all the benefits that anybody could have. So I hope that you got the point that we were trying to get across that is you need to take care of your own health. There is help out there. That is not traditional medicine is not what everybody had been doing for years, but you need to do your part. So I hope that this motivates you and also helps you to improve your health in general.
MG
Marilena Grittani
44:02
Next week, I will be talking to Lisa Curia. She is a pharmacist, that is also a nutritionist, actually, she said CNS, which is a certified nutritional specialist, which is even higher rank than a regular nutrition is nothing I guess, nutritionist by the way. What she does is that she combines her health and medical information that she learned in pharmacy school with her nutritionist training, and then she has a great, great way to teach and to educate patients on how to take care of their own health based on all the concepts of functional medicine. As you know, this episode would also be part of the series of functional medicine, and I cannot wait for you to listen to what Lara has to say next week. We had a great time. We both are chatty girls, but it was awesome. I really learned a lot from her and I know you're gonna like it so you can not miss it. So that's it for today, thank you so much for your time and I will talk to you next week.
MG
Marilena Grittani
45:04
This episode was brought to you by the takingcontrolofmyownhealth.com where we empower you with education to take control of your own health from doctors and health insurance companies. Look me up at The Legal Drug Dealer podcast in Facebook, Instagram, Pinterest, and LinkedIn. Let me know if you have any questions or suggestions and send them to hello@thelegaldrugdealer.com. So that is it for this episode. Thank you so much for listening. Please subscribe to our podcast. Give us a review if you have a little time for it. And if you have a question or a topic for a future episode, send it to me to hello@thelegaldrugdealer.com and I will respond myself or maybe you will have an episode with that topic in the future. Also, don't forget to visit thelegaldrugdealer.com look around and see what I have there for you. And while you're there, join our community so you will not miss a thing. With that I'm done.
MG
Marilena Grittani
46:02
But before I go, and just in case no one has told you today, I wanted to remind you of how awesome you are and how lucky are those that have you in their lives. Thank you for being the awesome you that you are. Have a wonderful rest of your day. This is Marilena Grittani, The Legal Drug Dealer. Bye for now.